Top Halloween Costumes for 2018
How to Ace the Trick or Treat Season

We all know that the "-ber" months are the golden child of festivities bound to sweep you from one holiday to another. It is when the clock strikes 12 on September 1 do we all get giddy and excited, already thinking about the upcoming string of parties and gatherings we are about to take in. Wherever you are, there's bound to be a celebration around these highly anticipated months. From Labor Day, to Octoberfest, to Christmas-- there's always a reason to celebrate. But among these holidays, one occasion rises above when it comes to going all out in bringing in the creeps and creativity: Halloween.
Halloween is a widely celebrated holiday around the world. For decades, halloween has been the avenue for people to bring out their creepy and scary selves out in the open. It is a great day (or night) to bring out your creativity and artistry, may it be through incredibly decorated costumes or simple yet witty pun attires. A witch, a hero, a princess, or a funny pun, the sky's definitely the limit because with Halloween, you make your own rules.
The year of 2018 is the year of jaw-dropping blockbusters, cult-favorite TV shows, classic and new giggle-triggering puns and memes, and even popular virtual games and apps. Channel these 2018 icons with these Halloween ideas, partnered with their matching pair of halloween contact lenses: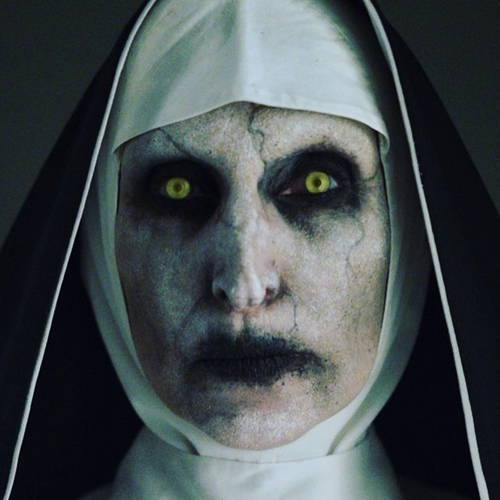 Fresh from the cinemas, one can be sure that this Halloween costume idea is already obvious. While it could be possible to have a flock of creepy nuns on Halloween night, why don't you step up your scary nun game by wearing what could be the most daunting thing about her?
But before we get to the x-factor accessory, start your look with a nun outfit. A steady supply of white powder/paint should create the pale face, and a smear of black makeup around the eyes and mouth should complete the base. This is probably where most will end their look with, but not you. What better way to seal the Nun ensemble than to have those crazy yellow eyes?
Drive the scary meter to overdrive with a pair of bright brown Halloween contacts that resemble the piercing eyes of The Nun. If you want that bright and popping effect, choose the Holicat Barbie Hazel halloween contacts. If you want less threatening eyes that will still give a bright eye look, the Gossip Brown halloween contacts is the one for you.
Keep everyone thrilled with these halloween contact lenses. With these spooky eyes, people will make sure to top off your look next Halloween.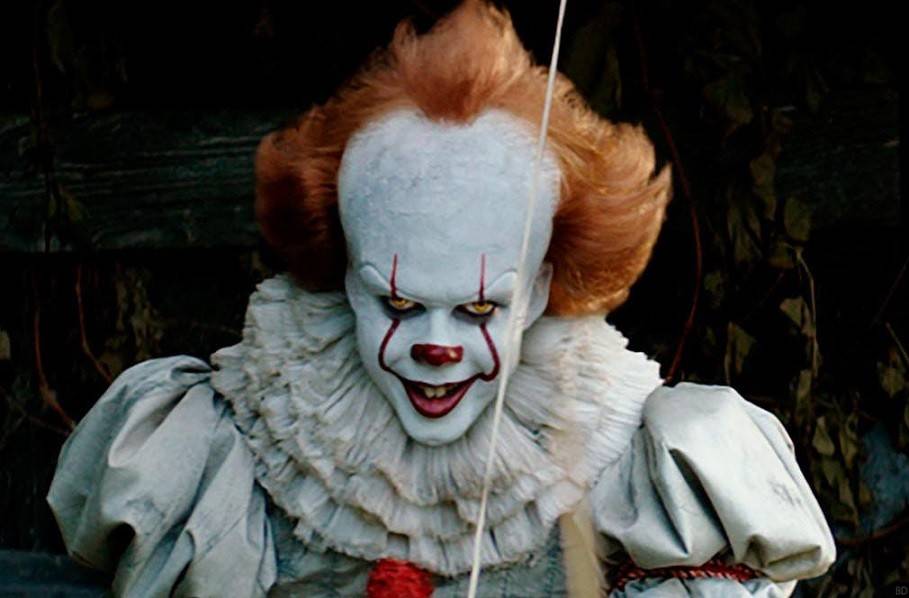 Pennywise is an iconic halloween look that we're still looking forward to seeing this year. The movie may be a year old already, but the creeps we get out of a shapeshifter who decided to be a murderous clown ripples until today.
To create this look, prepare your scariest vintage-looking clown outfit and put on your clown makeup. Of course, don't miss the red nose, the red hair, and Pennywise's signature red lines that trace from the edges of the lip to the eyes. To finally seal the look, apply hazel halloween contacts to fully recreate those sinister eyes.
Make spines tingle in fear with a pair of honey colored Halloween contact lenses. Pennywise's yellow eyes could be hard to bear for some, so hazel halloween contact lenses like the Glamour Honey should bring out the haunting honey eyes without the overkill. For brighter and fuller hazel eyes, the Glitter Honey 3-toned halloween contact lenses' bright look should suit you best.
What better way to trick the crowd than with eerie halloween contacts? With Pennywise's iconic killer yellow eyes on you, you're sure to ace the Halloween game.
PS: Don't forget your red balloon.
3. Mavis of Hotel Transylvania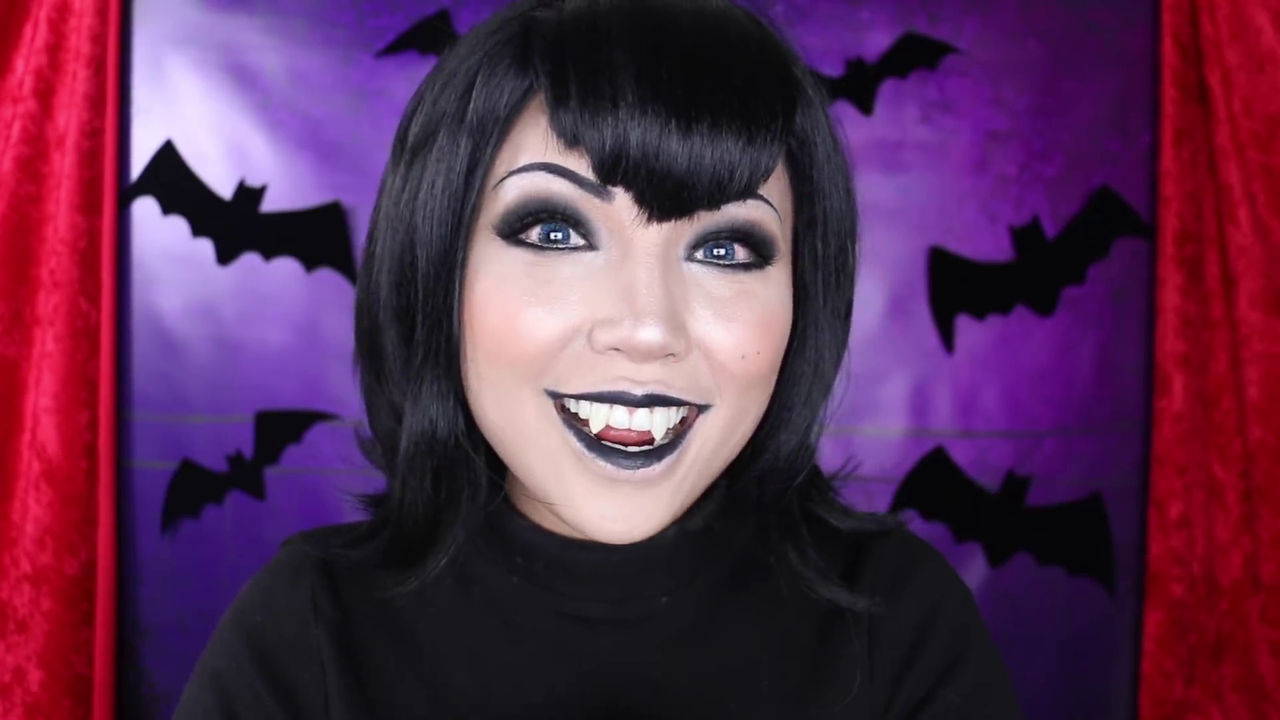 What's a Halloween party without a vampire? With so many vampire adaptations throughout the years, anyone can be a vampire on their own terms. Whether you want the terrifying look of the original Dracula, or the petrifying vampires in Van Hel Sing, or a balance of hot and sparkly like Edward Cullen-- it's all up to you.
But if you want a brighter, kinder version-- kid-friendly, to be exact, there is Mavis of Hotel Transylvania to be your guide. Her look is simple. With her short black hair, widow peak bangs and all black makeup, just toss in a pair of vampire fangs and you're almost done. To fully transform into the friendly and enthusiastic Mavis, place in a pair of bright blue halloween contact lenses to complete the look.
To recreate her blue eyes with a natural touch, the Glossy VG Blue is the best choice. If you want a brighter blue tone that will make your eyes stand out, the Luna Prism Blue halloween contact lenses will adorn your eyes just right.
Mavis is not your ordinary vampire-- she could be spooky, but she could also be relatable and ordinary. With these blue halloween contact lenses, not only can you sport blue eyes on costume-studded occasions, but even on normal days.
---
2018 has been an intense year for Marvel. We've all had our fair share of unforgettable MCU moments and with this year's movies, we could say that the superhero game has transcended to a whole new level. We're looking forward to some Marvel-inspired costumes this Halloween and here are just some looks to cop for that badass hero entrance: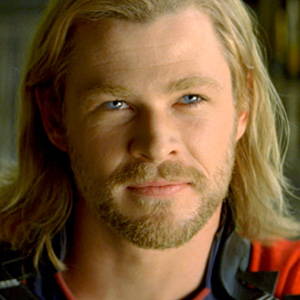 Our hunky, powerful, and mighty lord of thunder is an easy choice. Thor's character stole our hearts for his great power, pure heart, and charming looks. We all might have stared at his electric blue eyes and for obvious reasons: they're dreamy and they're stunning.
For Thor's look, a simple armor, a cape, and his signature hammer should check all the boxes for the outfit. Style your hair depending on which Thor movie you're going for (eg. Long for Thor and Thor: The Dark World, Short and clean for Thor Ragnarok). Finally, complete the look with a pair of light blue contacts with a natural finish.
Thor's blue eyes are easy on the eyes. For a light blue pair of contacts that will sit well even on dark-eyed people, the Royal Vision Velvet Blue is a great pick. For a slightly darker tone of blue that looks natural, choose the GEO Blenz Chic Blue halloween contacts.
The Incredible Hulk. What more is there to say? If you want to be the seething, angry green hunk around, this character should be easy as pie. For Hulk's look, simply sport your torn pair of shorts and paint your entire body green. A casual outfit will be perfect if you're going as Bruce Banner. To fully copy his look, a pair of bright green Halloween contact lenses should enhance the Hulk vibe.
Even if we mostly see the Hulk in action and we focus our attention on the throwing and smashing, getting the chance to see Hulk's face will show bright green eyes with a level of depth. Choose the Freshlook Colorblends Gemstone Green halloween contact lenses for an emerald tone on the eyes. For a lighter, and much tamer shade of green, the Eyecandys Glossy Green halloween contacts are the perfect pick.
6. Mantis of Guardians of the Galaxy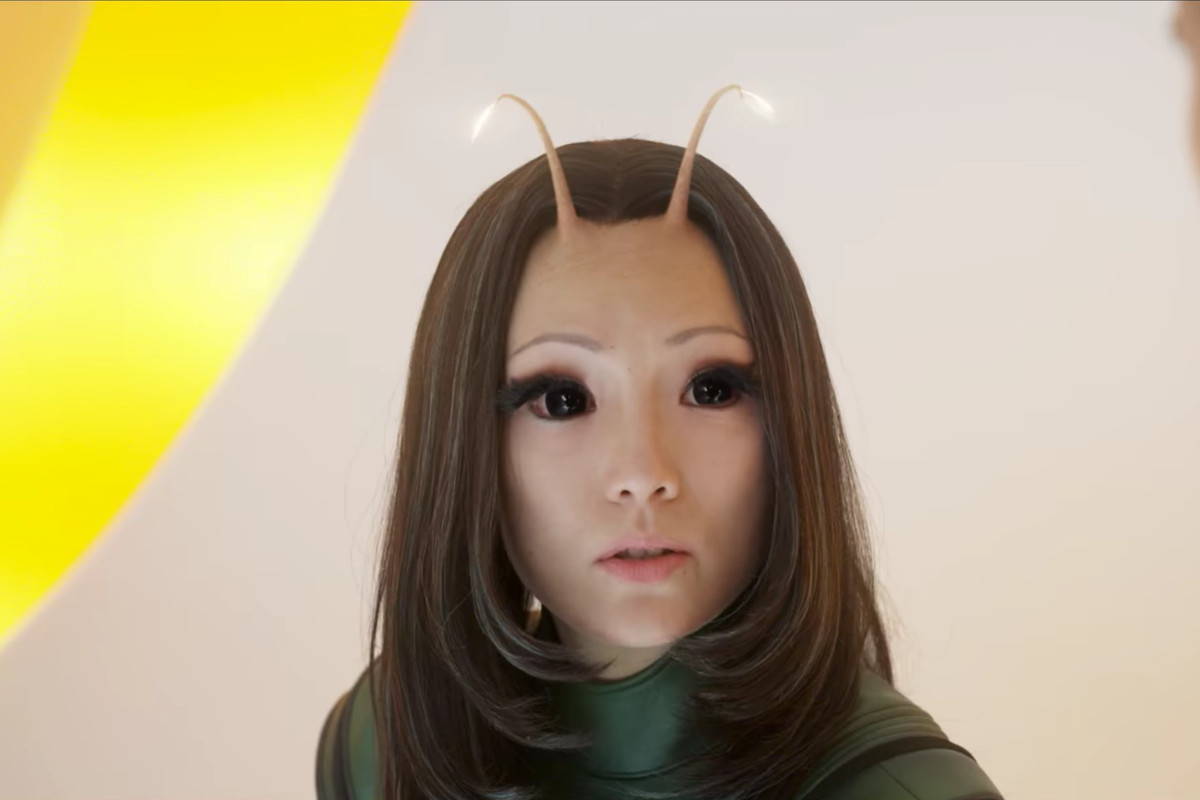 Mantis is an interesting character to go for. Her naive personality is fascinating just as her empathic power is admirable. Mantis' look is simple. Achieve her alien-insect appearance with antennae attached to a headband and most importantly, her huge black eyes. For the eyes, choose black halloween contact lenses with a huge diameter or a dolly finish. Add in your falsies and you're look is complete.
Mantis' eyes are like black holes that soak up all our attention. Perfect black-colored halloween contact lenses that could easily slay this look are the GEO XTRA Forest Black and the GEO Extra Magic Black.
7. Princess Shuri of The Black Panther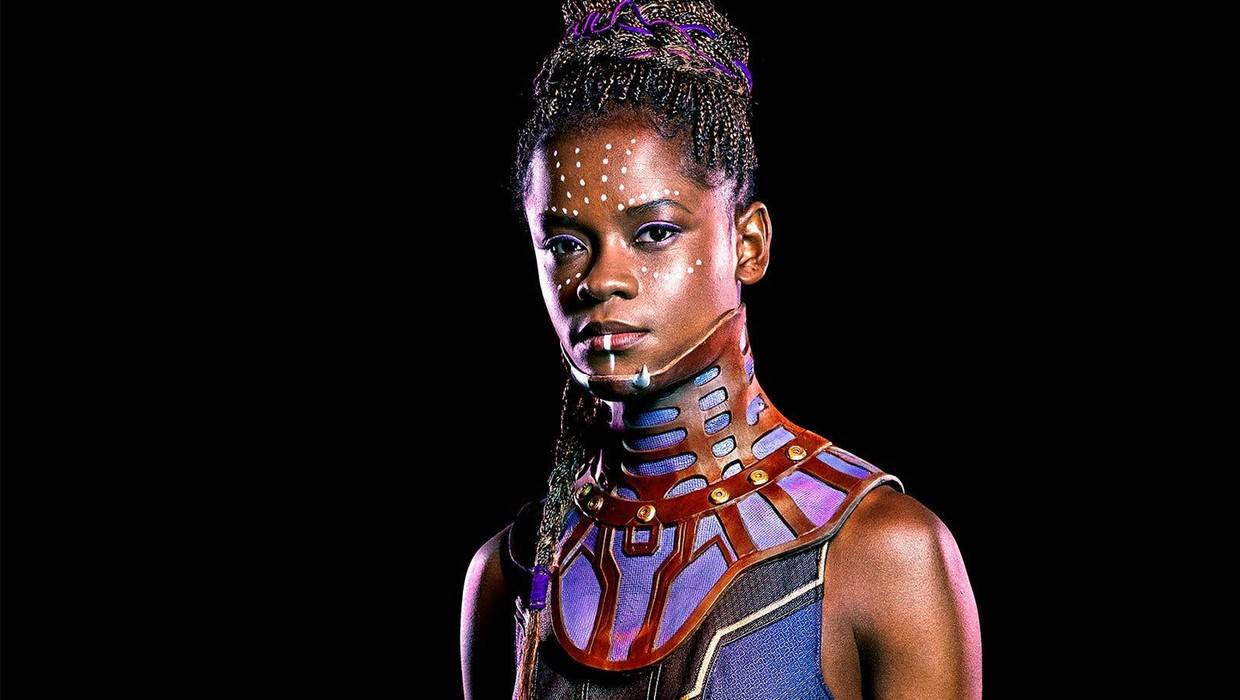 Be a showstopper at the party with a fabulous Princess Shuri costume. Her look is characterized by white-dotted patterns painted all over the face and purple eyeshadow applied in a straight fashion above the eyes. Finish off the look with deep/dark brown contact lenses for a natural look.
Princess Shuri's deep brown eyes are straightforward and powerful. For a pair of brown halloween contact lenses that look slightly larger than the normal eye, the NEO Dali Premium Brown is a solid choice. For more natural and realistic-sized dark brown lenses, choose the GEO Fresh Brown.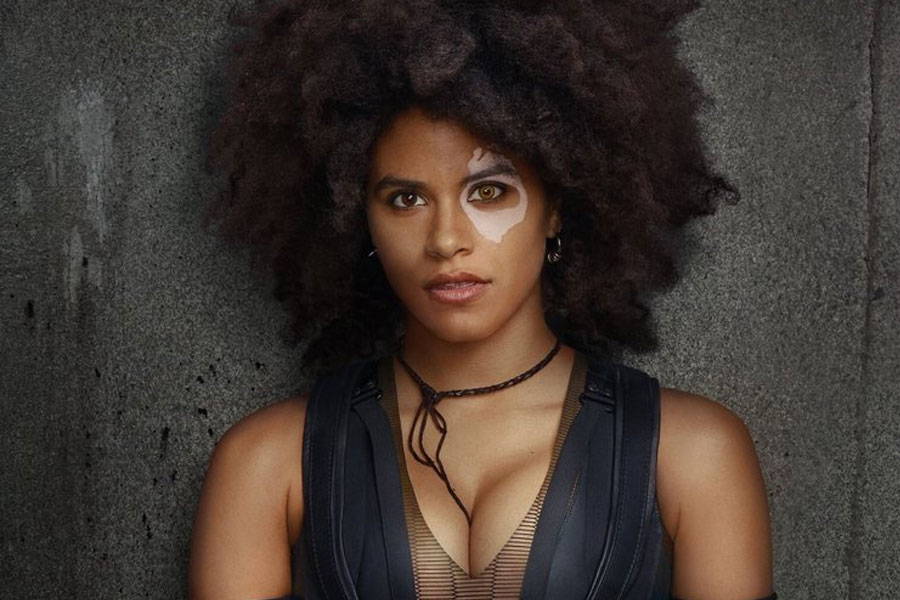 If you believe that good luck is a superpower, and if you think that you're lucky, then Domino will suit you best. Unlike the conventional superhero, Domino effortlessly escapes danger and topples bad guys just with a swing of good luck. As for her look, style your hair to an afro and put on a badass get-up. She has minimal makeup except for an irregular white patch around the left eye and her eyes are two different shades of brown on each side. To achieve Domino's eyes, try a hazel toned halloween contact lenses on the left eye and a choco brown contact lens on the right.
Domino has a stunning case of heterochromia (different colored irises on each eye) and we all want a taste of that. To achieve this look, the Queen 4 Tone Hazel halloween contacts will go well on the left eye. For the right eye, Dali Chocolate Brown is the one for you.
---
9. Eleven of Stranger Things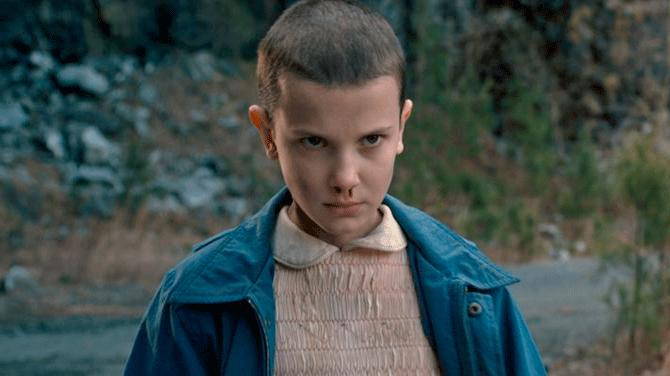 Let's move on from the world of Marvel and tread on the suburbs of Hawkins, Indiana, where we meet Eleven and a whole bunch of strange phenomena. Be the girl of psychokinesis and telepathy with Eleven's signature look. Recreate the look with a pink vintage dress and a blue jacket. El's most popular looks are her shaved head and the blonde wig, so either will do. Be ready to stare into the eyes of many with El's deep brown eyes which you can have with a pair of brown halloween contact lenses.
Eleven's timid personality usually keeps her silent, which is why her deep brown eyes are her channels of communication and expression. Replicate her look with natural-looking halloween contacts like the Annex Ring Brown or the NEO Natural Touch Brown.
10. Dustin of Stranger Things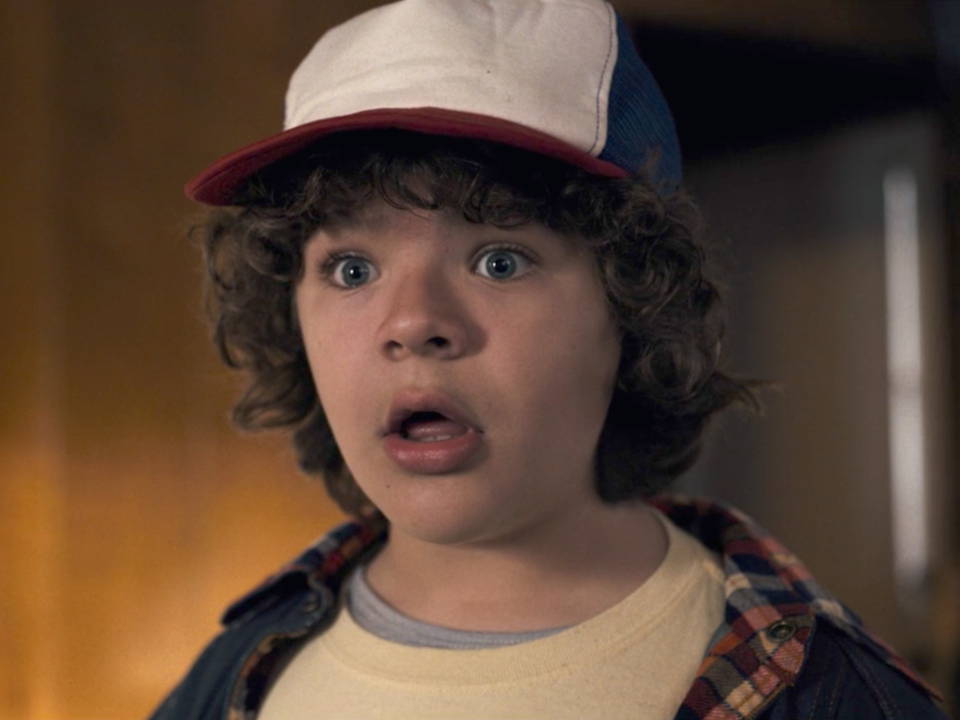 So if you're more of the goofy one in the group, you'll probably work best with Dustin Henderson's character. Recognized by many because of his iconic cap, charming curls, and cute lisp, there's no doubt that anyone can detect your character from afar. Replicate Dustin's charm with a pair of ocean blue eyes that will make your resemblance uncanny.
With Dustin's light hearted personality and animated expressions, we're inspired to play a little bit on the blue tones and add in a little color here and there. For a deep blue shade with sudden hints of hazel, the 1STREET Urban Blue halloween contact lenses will add more character to your look. If you want a more standard shade of blue, the Freshlook Colorblends True Sapphire is an excellent pick.
---
From the big screens to the TV screen, let's move on to our computer and phone screens. If you're a big fan of video games, the choices are limitless. For now, let's give you a sample that's inspired by a popular video game: Fortnite.
11. Brite Bomber of Fortnite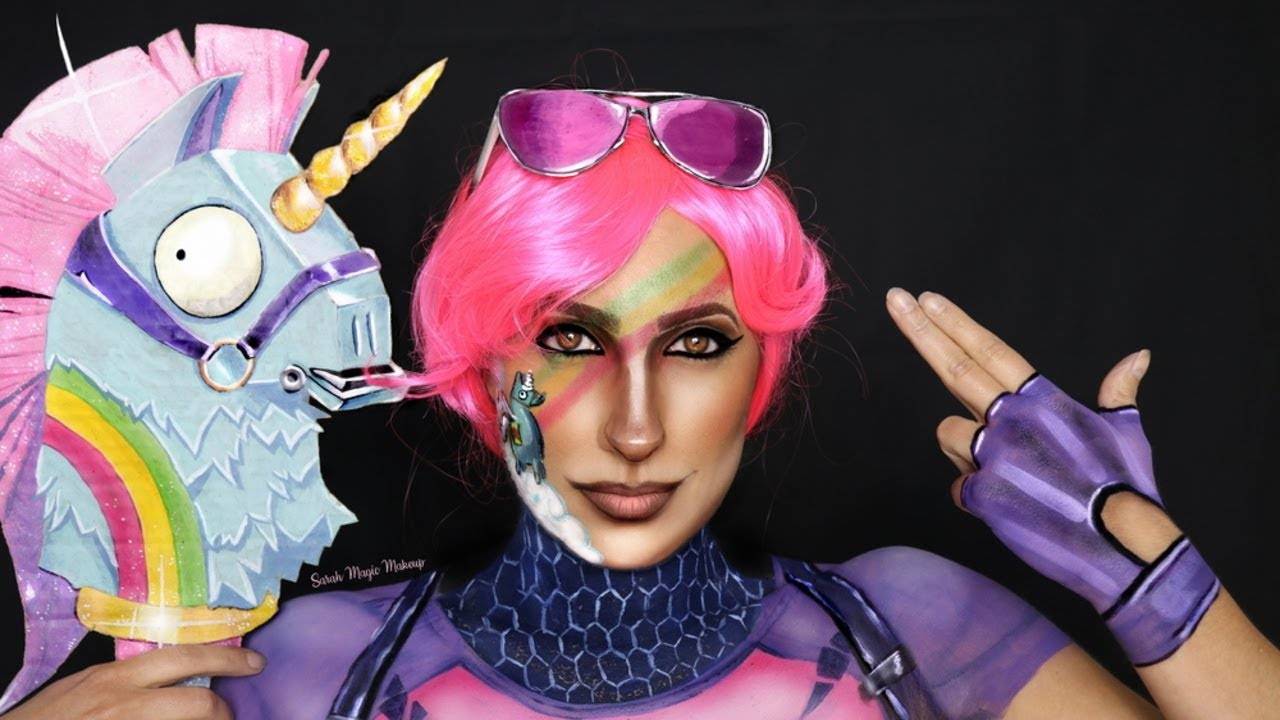 Deemed as one of the rare skins in Fortnite, Brite Bomber is characterized by her bright pink hair, tight blue suit with a unicorn design on the front. Since she is not one of the more popular skins, going with this look will make you stand out, especially with most of your friends probably going for Leviathan, Raven, or Valor.
Everything about Brite Bomber seems bright-- from her hair, her suit, her glasses, and even her eyes. With everything looking like a party of pinks and purples, her hazel eyes draw a contrast to the look, thereby drawing attention despite the color confetti happening around.
For a bigger, dolly hazel look, the GEO Eyescream Vanilla Brown halloween contact lenses will give you those power eyes. For a realistic hazel look, the Silicos Glitter Brown halloween contacts will glaze your eyes with a steady natural hazel shade.
---
If you want to keep things easy and effortless but still want to draw attention, why not get ideas from the infamous face filters of Snapchat? With people going around everyday sharing their virtually decorated faces, wouldn't it be interesting to go out as a Snapchat filter?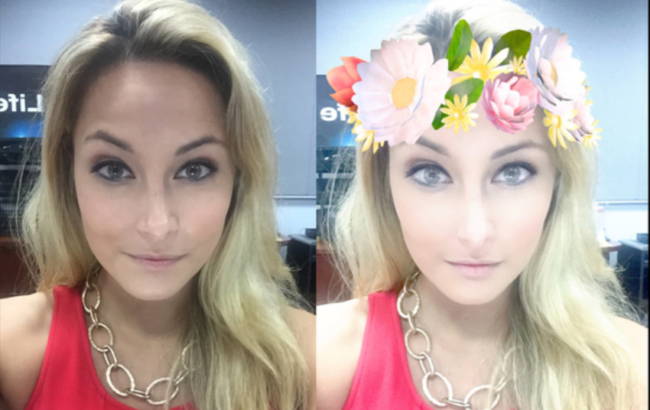 Admit it: You've tried this filter at least once. We could all agree that this is possibly one of the most commonly used Snapchat filters out there. To make this as your Halloween costume is easy peasy. All you have to do is put on a flower crown and bring some sparkle into those eyes. A little highlight here and there is best paired with sparkly grey halloween contact lenses to give those eyes a boost.
The key to this look is the right amount of sparkles. Two popular halloween contacts come to mind with this look: the Aquabling Grey and the Aurorabling Grey lenses. These lenses have the innate sparkle in their designs beautifully glistening over a grey lens.
Why need a filter if you are the filter?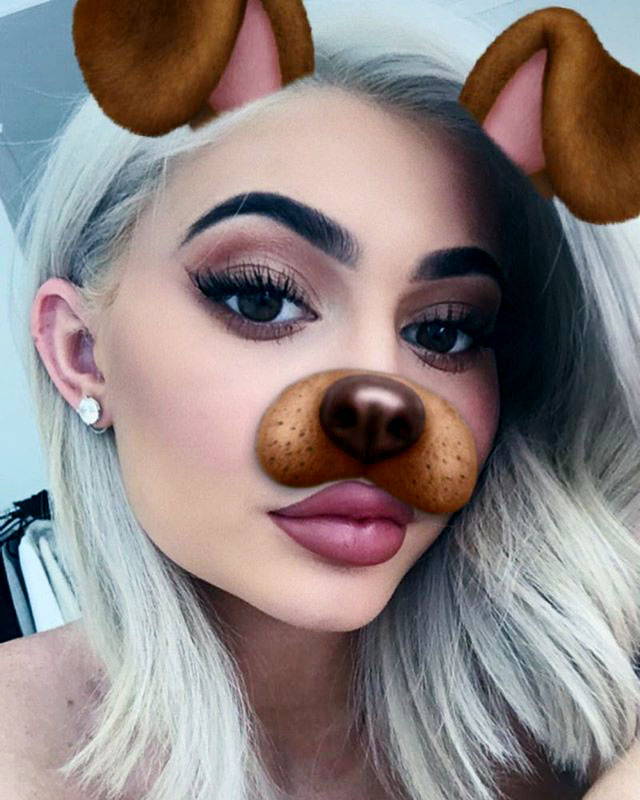 This Snapchat filter has had millions of us sticking out our tongues in front of our screens and all that was good fun. This costume, like The Flower Crown, takes little effort. Show up in a cute headband with puppy ears (you can even print out the ears, tongue and nose to stick on) and voila! That's Halloween sorted out for you.
However, we suggest putting in a little more extra effort into this look. Even if the filter doesn't really come with any eye enhancement, why don't you up your puppy game and finish off the look with the perfect puppy dog eyes? With a pair of big cocoa brown eyes, you've easily won Halloween.
Our top picks for ultimate puppy dog eye look are the Cappuccino Brown and the Princess Mimi Almond halloween contact lenses.
Years ago, halloween costumes used to only go around the likes of vampires, ghosts, Disney princesses, witches, zombies, and superheroes. Today, figuring out who to be on Halloween could be exciting and stressful at the same time. With everything we see around as possible costume ideas, it's hard to pick which will be the best.
But shake your Halloween blues away because this holiday isn't about competition, but more about expressing yourself in the most creative way possible.
In this trick or treat season, be the treat of the party with the perfect halloween costume. Whether you're going all Pennywise from head-to-toe or a classic Snapchat filter, always remember to pair your costume with the ultimate pair of halloween contact lenses for a look that will stand out.
How about you? Who will you be this Halloween? Let us know on the comment section below!