Anna Sui 3Con Grey Cosmetic Contact Lenses
Luxurious, delicately designed pieces traipsing down from top fashion runways into your very hands.
Prominent designer, Anna Sui, has created her own line of cosmetic contact lenses that are sure to glam up any look! The Anna Sui 3CON gray contacts feature the most elegant 3-tone, rose-inspired pattern that blends smoothly with any eye color.
Anna Sui 3CON cosmetic contact lenses are exclusively produced in Korea by nothing less than an FDA-approved manufacturer. Made by high-grade material, Phosphorylcholine-coated Silicone Hydrogel, these gray contacts are a triple combo of style, comfort and UV-protection!
For classic elegance that lets you stand out, look no further than these Anna Sui 3CON gray contacts. They're simply a cut above the rest!
For eyes that glimmer in any light, these Anna Sui 3CON gray contacts feature the most intricate 3-tone blend of colors, specifically designed to make you have the most natural and fresh-looking grey eyes.
Available in both non prescription and myopia prescription (power 0.00 ~ -8.00)
Sold as a pair of 2 lenses
Fashion forward yet versatile, these gray contacts are perfect for any occasion. Pair these cosmetic contact lenses with a neutral eye look during the day; winged eyeliners and a smoky eye look for the night. Looking glamorous has never been this easy, thanks to these gray contacts!
Like every designer piece, these cosmetic contact lenses are made with utmost attention to detail, using the most premium materials to suit even the highest standards!
Anna Sui's luxuriously feminine and carefree design is now within your reach. These trendy gray contacts are just what you need to take your OOTD a level higher. Surely a fashionista must-have!
| | |
| --- | --- |
| Power Range | 0.00 ~ -8.00 |
| Lens Diameter | 14.2 mm |
| Graphic Diameter | 13.7 mm |
| Base Curve | 8.7 |
| Water Content | 38.5% |
| Replacement Cycle | 6 months |
| Size | Large |
| Style | Natural |
| Number of Tones | 3 |
| Recommendation | Good for dark eyes |
What's Phosphorylcholine (PC) Silicone Hydrogel?
Making its name in the contact lens industry, phosphorylcholine (aka PC) is a biocompatible material commonly used in medical implants and prosthetics. Silicone hydrogel (Si-Hy) is the gold standard in terms of contact lens materials, favored for its high oxygen transmission and moisture retention.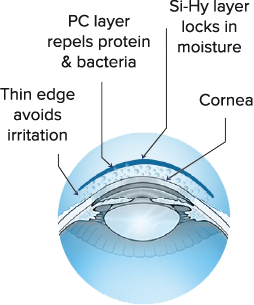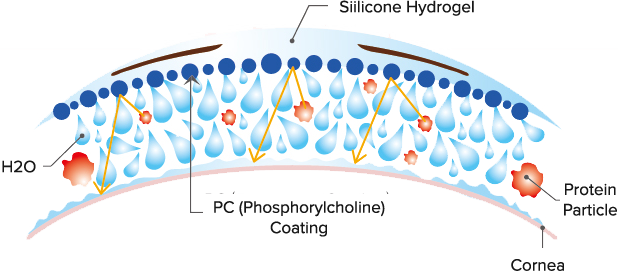 The PC coating minimizes water evaporation from your eye surface, providing long-lasting hydration and comfort. Unlike typical contact lenses, PC's biocompatibility reduces the risk of irritation caused by protein and lipid buildup.
PCMLC
Approved by the US FDA, GEO Medical PC lenses utilize phosphorylcholine multi-layer coating (PCMLC) technology, stabilizing the lens pigment between two layers of PC silicone hydrogel.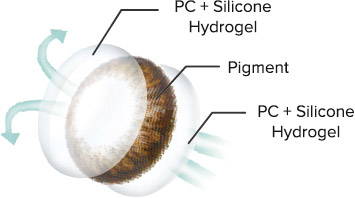 UV Protection
Sun damage is notorious for causing all sorts of premature vision issues. Thankfully, GEO Medical PC lenses having a UV-blocking coating to shield your eyes from UVA and UVB rays.
Great!
I have been putting off getting yearly contacts as in my mind, they were always more uncomfortable. But WOW! These feel so natural and lightweight that I forget I have contacts in at all. They also look super natural on my brown eyes. Had an postage issues on my first order and EyeCandy did an awesome job sorting it out :)
Will definitely order these again when I see them on discount!
Very comfortable
Very comfortable. As a colour contact even more comfortable than some daily colour contacts. And noticeably different but not too exaggerated
3 con grey
I really love them!! They look so natural and they're very comfortable!!! I would recommend them to anyone who wants a good deal, with a quality product!!!!
| | |
| --- | --- |
| Package Contents | 1 pair (2 lenses) |
| Material | Phosphorylcholine coated silicone hydrogel |
| Manufacturer | GEO Medical |
Shipping
We offer FREE international standard shipping on all orders above US$15.
For orders totalling less than US$15, a US$4.99 shipping fee applies.
PROCESSING TIME
+
TRANSIT TIME
=
TOTAL SHIPPING TIME
STANDARD FREE SHIPPING (E-EXPRESS)
Processing time: 2-4 working days, does not include additional time needed for Backordered products.
Transit Time: Zone A countries (10-15 working days), Zone B countries (15-30 working days)
Zone A countries: United States, Canada, Brazil, the United Kingdom, Russia, France, Germany, Spain, Netherlands, Switzerland, Norway, Sweden, Denmark, Israel, Australia, New Zealand, Japan, South Korea, Singapore, Thailand, Cambodia, Macao, Philippines  and Vietnam. Other countries are in Zone B.
COURIER SHIPPING (SURCHARGE)
Processing time: 2-3 working days, does not include additional processing/production/assembly time if indicated. Transit time: 2-10 working days for all countries.
For exact courier services offered, transit times and costs, [lease refer to the Shipping Calculator on the Cart page.
Returns
Items in original condition (unopened, unmarked and unused) can be returned for a partial refund. Returns are subject to a 30% restocking fee
For full details, please refer to this page: Customer Service