GEO Grang Grang Choco Circle Lenses
Debuting in 2012, the Grang Grang series by popular contact lens brand GEO were without peer when it came to naturally enhancing the look of your eyes. Using a simple two tones, these colored contacts were designed to reflect the light in your eyes and give them a polish that is noticable, but not unnatural. A lens diameter of 14.2 means that the printed pattern fits over your iris perfectly. With 38% water content, they will feel extraordinarily comfortable as well. They are made with Polymacon material by veterans GEO Medical, the gold standard in the circle lens industry.
The circle lenses also enlarges the best features of your eyes with a dark rim around the edges, enhancing your iris' color and size in a subtle way. You won't look like an anime character, but rather an ordinary person with extraordinarily beautiful eyes. Grang Grang colored contacts come in a pair with their own case and are usable for up to a year. Free shipping and an authentic guarantee are included as well, which will set any doubts at ease.
The color of chocolate brown, these colored contact lenses are a spot on choice for any occassion, work or play. Blends in perfectly with darker hair.
Available in both non prescription and myopia prescription (power 0.00 ~ -8.00)
Sold as a pair of 2 lenses
A lens diameter of 14.2 make them an easy fit over your eyes and 38% water content is plenty to keep them comfortable.
Made of Polymacon by GEO Medical, a veteran of the industry. Each pair of contacts is usable for up to a year and come with their own case.
When looking for the perfect pair of colored contacts, look no further than these GEO Grang Grang lenses! Korean models and actresses love wearing these paired with minimal makeup – you won't need any mascara, eyeshadow or frills when these contacts make you look THAT good. Try a pair today and see how quickly you can beautify your look!
Power Range
0.00 ~ -8.00
Lens Diameter
14.2 mm
Graphic Diameter
13.1 mm
Base Curve
8.6
Water Content
38%
Replacement Cycle
Yearly
Size
Large

Style
Natural
Number of Tones
2
Pattern
Circle Lens
prominent limbal ring
---
Why Buy Contacts From Us?

Free 3-Day Express Shipping on US$145+. In-stock orders deliver in 3-4 business days with tracked DHL shipping.

Product Quality Guaranteed. We quality-check items before sending. But in case you receive a defective item, we'll replace it for free

Safety First. All our lenses are from manufacturers approved by health authorities, like the FDA, CE, Health Canada & more.

Freebies. Each order comes with free lens cases and gifts depending on the promotion at the time of purchase.
What's Phosphorylcholine (PC) Silicone Hydrogel? (aka PUSCON)
Making its name in the contact lens industry, phosphorylcholine (aka PC or PUSCON) is a biocompatible material commonly used in medical implants and prosthetics. Silicone hydrogel (Si-Hy) is the gold standard in terms of contact lens materials, favored for its high oxygen transmission and moisture retention.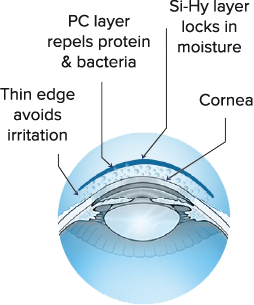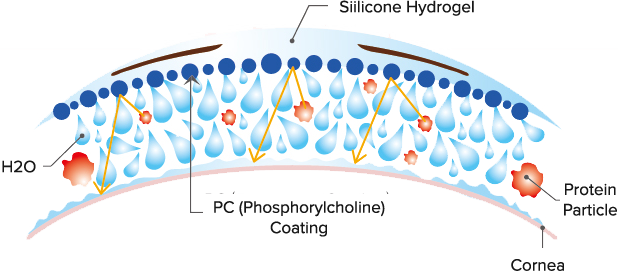 The PC coating minimizes water evaporation from your eye surface, providing long-lasting hydration and comfort. Unlike typical contact lenses, PC's biocompatibility reduces the risk of irritation caused by protein and lipid buildup.
PCMLC
Approved by the US FDA, GEO Medical PC lenses utilize phosphorylcholine multi-layer coating (PCMLC) technology, stabilizing the lens pigment between two layers of PC silicone hydrogel.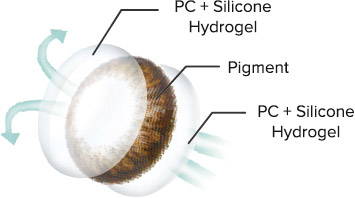 UV Protection
Sun damage is notorious for causing all sorts of premature vision issues. Thankfully, GEO Medical PC lenses having a UV-blocking coating to shield your eyes from UVA and UVB rays.
Lovely!
They are bigger than I thought but they give a beautiful big eye look to my everyday makeup routine!
Very lovely and comfortable!
I wore these lenses for a cosplay to Comic Con and they were absolutely lovely. They didn't dry my eyes at all and they didn't cause any problems. They only started to feel uncomfortable after 7-8 hours of use which is normal for any type of contact lenses, since you shouldn't wear them for longer than that. I have blue eyes and you can still see a bit of the blue but I personally think it looks pretty cool, and from afar my eyes look completely brown. The enlarged effect is also pretty cute lol. Will definitely be wearing them more often!
Hi there ..the color is nice but evrytime i put it its blurry so i cant wear it at all.i dont have any problems in my eyes
Hi Carmie, Thanks for bringing this to our attention! Kindly send us a ticket over at
hello@eyecandysc.com
so we may look into your concern. Thank you!
Wow!
I've been wearing these for years and I love them before the shipping sucked but I have to say I am beyond surprised with the company's improvement on that I received them in no time VERY HAPPY
| | |
| --- | --- |
| Package Contents | 1 pair (2 lenses) |
| Material | Phosphorylcholine-coated silicone hydrogel |
| Manufacturer | GEO Medical |
| Certifications | |
| | | |
| --- | --- | --- |
| Order Amount | SF Express / K-Packet / E-Express / Direct Link (20-30 working days) | DHL Express (6-9 working days) 👍 |
| | | |
| | | |
| | | |
Final delivery time and cost will be confirmed during checkout prior to payment
For our COVID-19 delivery policy, please refer to this page: Our COVID-19 Update
For full details regarding shipping & returns, please refer to this page: Customer Service