GEO Holicat Funky Grey Coloured Contacts
Love is definitely sweeter and bolder the second time around for GEO Holicat as it surprises us with their new remarkable coloured contacts selection. From the makers of the topselling 2013 Holicat series, we are in for a delightful surprise.
Get your cat eyes on 'cause GEO Medical has come back even fiercer with its second Holicat series!
On a hunt for those purrfect gray contacts? The GEO Holicat Funky Grey Coloured Contacts features a grey lens with dreamy bursts of honey and brown tones. Cop that trendy look with just a pair of these coloured contacts and you'll surely own the show!
Its claim to fame? These Holicat gray contacts are constructed with phosphorylcholine multi-layer coating (PCMLC), a breakthrough technology in contact lens manufacturing that provides long lasting hydration and protection from irritation and UV radiation.
The GEO Holicat Funky Grey Coloured Contacts feature a match made in style heaven! The honey, cocoa brown, and grey trio will definitely add some spunk on your eyes. Now get your funky grey on and flaunt those eyes!
Available in both non prescription and myopia prescription (power 0.00 ~ -8.00)
Sold as a box containing 2 lenses of the same power. Please order 2 boxes if you have a different power for each eye.
These 3 tone gray contacts are slightly larger in diameter to give that pop of color and a high moisture content of 46% so you get that sweet style and comfort without ever getting worried about dry eyes!
Manufactured with PC technology by GEO Medical, these monthly lenses are proven safe and of high quality
For coloured contacts that offer prime style, comfort, and maximum protection? None of us need to look far! Put on that funky cattitude and grab your own Holicat gray contacts now!
| | |
| --- | --- |
| Power Range | 0.00 ~ -8.00 |
| Lens Diameter | 14.2 mm |
| Graphic Diameter | 13.4 mm |
| Base Curve | 8.7 |
| Water Content | 48% |
| Replacement Cycle | Monthly |
| Size | Slightly larger |
| Style | Dolly |
| Number of Tones | 3 |
| Recommendation | Good for dark eyes |
---
Why Buy Contacts From Us?

Free 3-Day Express Shipping on US$120+. In-stock orders deliver in 3-4 business days with tracked DHL shipping.

Product Quality Guaranteed. We quality-check items before sending. But in case you receive a defective item, we'll replace it for free

Safety First. All our lenses are from manufacturers approved by health authorities, like the FDA, CE, Health Canada & more.

Freebies. Each order comes with free lens cases and gifts depending on the promotion at the time of purchase.
FREE PAIR OF COLOR CONTACT LENSES
WHEN YOU BUY ANY 2 PAIRS OF
---
What's Phosphorylcholine (PC) Silicone Hydrogel?
Making its name in the contact lens industry, phosphorylcholine (aka PC) is a biocompatible material commonly used in medical implants and prosthetics. Silicone hydrogel (Si-Hy) is the gold standard in terms of contact lens materials, favored for its high oxygen transmission and moisture retention.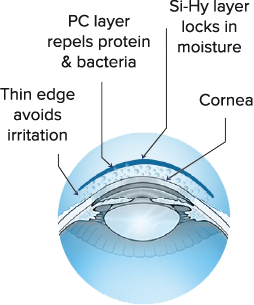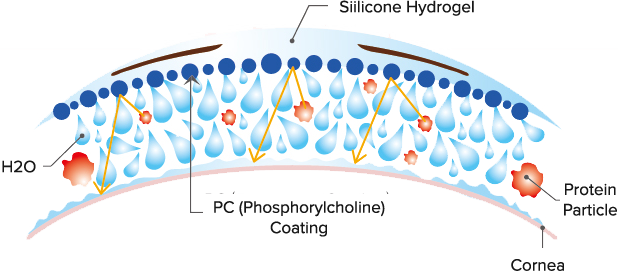 The PC coating minimizes water evaporation from your eye surface, providing long-lasting hydration and comfort. Unlike typical contact lenses, PC's biocompatibility reduces the risk of irritation caused by protein and lipid buildup.
PCMLC
Approved by the US FDA, GEO Medical PC lenses utilize phosphorylcholine multi-layer coating (PCMLC) technology, stabilizing the lens pigment between two layers of PC silicone hydrogel.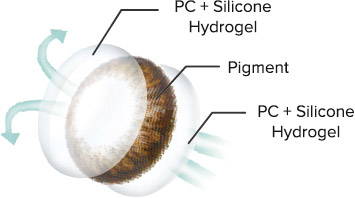 UV Protection
Sun damage is notorious for causing all sorts of premature vision issues. Thankfully, GEO Medical PC lenses having a UV-blocking coating to shield your eyes from UVA and UVB rays.
Holicat Funky Grey!
I am in love with the way they make my eyes look. I love how soft they are honestly they are amazing and pretty!
Those contact lenses are amazing!
Love them!!!
And super comfortable 😍
Love them!
Love these contact lenses. They make my dark (almost black) eyes more beautiful and they are quite comfy. Totally worth the price. I will definitely order again.
Beautiful
The contacts looked really amazing. My only problem is that they're super flimsy but other than that, they're great. I look and feel beautiful with these lenses.
| | |
| --- | --- |
| Package Contents | 2 lenses/box |
| Material | Phosphorylcholine-coated silicone hydrogel + UV block |
| Manufacturer | GEO Medical |
| Certifications | |
| | | |
| --- | --- | --- |
| Order Amount | SF Express / K-Packet / E-Express / Direct Link (20-30 working days) | DHL Express (6-9 working days) 👍 |
| | | |
| | | |
| | | |
Final delivery time and cost will be confirmed during checkout prior to payment
For our COVID-19 delivery policy, please refer to this page: Our COVID-19 Update
For full details regarding shipping & returns, please refer to this page: Customer Service