Colored Contact Lenses To Take Your Euphoria Makeup Looks To The Next Level

Why We're Obsessed With Euphoria

Ever since its release in 2019, HBO's top-rated teen series Euphoria has been making waves for its raw portrayal of teenage life, and the artistic use of makeup to convey each character's emotions. According to the show's lead makeup artist, Doniella Davy, she wanted to 'present makeup in nuanced, interesting ways', and we definitely saw her vision come to life as Rue, Jules, Maddy, Cassie and Kat navigate love, friendship, trauma and identity throughout the series.
If there's one thing Euphoria loves doing, it's playing up their characters' eyes to express each girl's unique perspective and feelings. But, if you want to push the envelope even further and let your eyes do all the talking, then we highly recommend topping off your look with a pair of statement colored contacts to make your eye makeup that much more captivating.
Whether you've been closely following the show or just want to capture some of that magic Euphoria makeup glitter you've been seeing all over IG and TikTok, you'll definitely want to try out these jaw-dropping looks we've rounded up on this blog post. Keep scrolling for all the best Euphoria makeup looks to recreate; from watercolor eyes, graphic liners, and everything in between. Oh, and we've also got the perfect lens styles to enhance each character's distinctive makeup looks down below.
Our Top Euphoria Looks (And The Perfect Lenses to Match)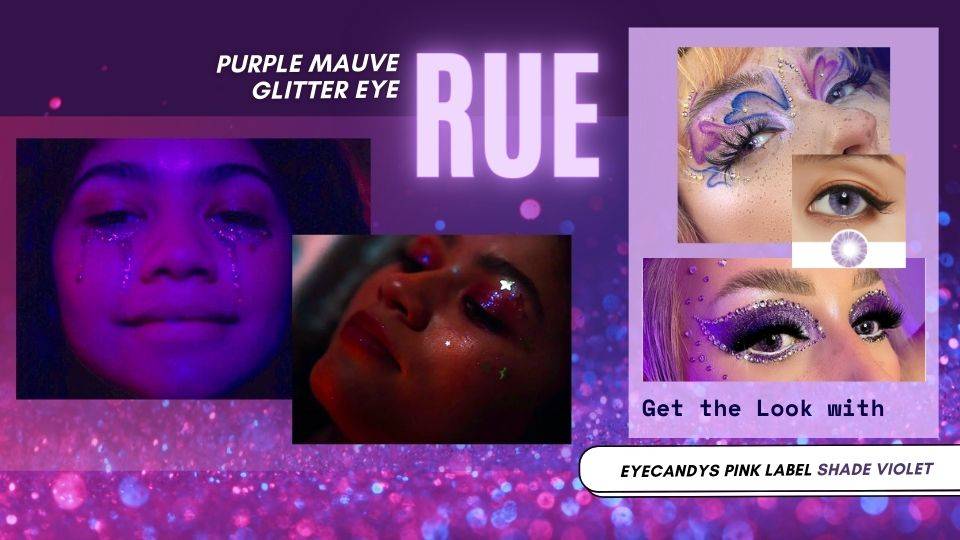 Rue euphoria makeup is nothing short of spectacular, with dynamic and eye-catching elements like glitter tears and reflective star stickers being a recurring theme for the majority of her looks.
Being a bit of a tomboy, her makeup is never overdone, yet still remains to be some of the most talked about (and recreated) Euphoria makeup looks of all time. Though it was hard to pick a favorite, we think that these dazzling purple eye looks are some of her best ones.
Make your eyes stand out even more with EyeCandys Pink Label Shade Violet, Pink Label Galaxy Violet, and NEO Cosmo Violet a shade nearly identical to all the mauvey purple Euphoria makeup Rue has been rocking all season long.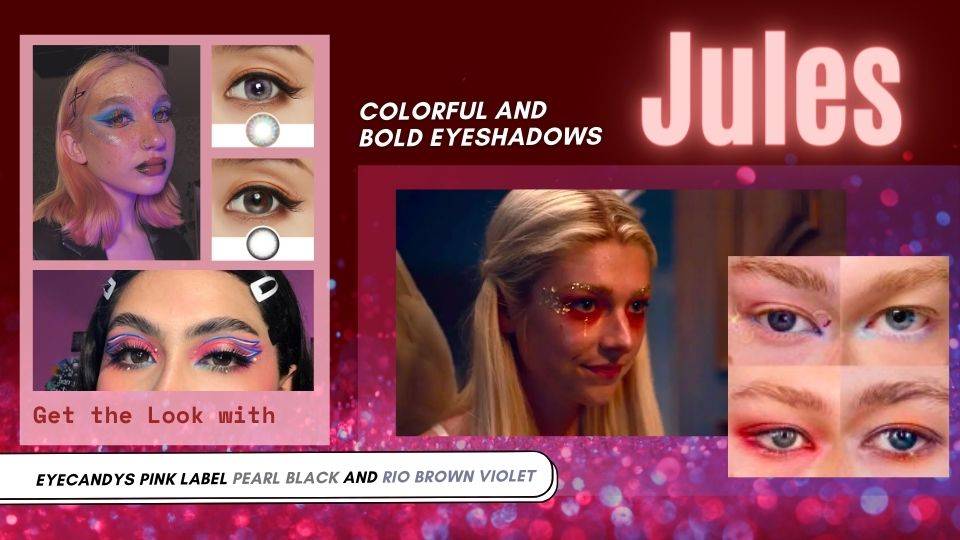 Jules euphoria makeup always walks the line between whimsical and edgy. Depending on her mood or outfit for that day, Jules can go from drawing charming little shapes with pastel colored liners, or donning a full avant-garde look with a medley of vibrant eyeshadows. But regardless of whatever vibe she's going with, we must say that her looks are always something to watch out for on every episode.
For even more visual impact, complement Jules euphoria makeup by donning a pair of multidimensional colored contact lenses. Try out EyeCandys Pink Label Pearl Black, Rio Brown Violet, Hey Mish Blue and see the incredible difference for yourself!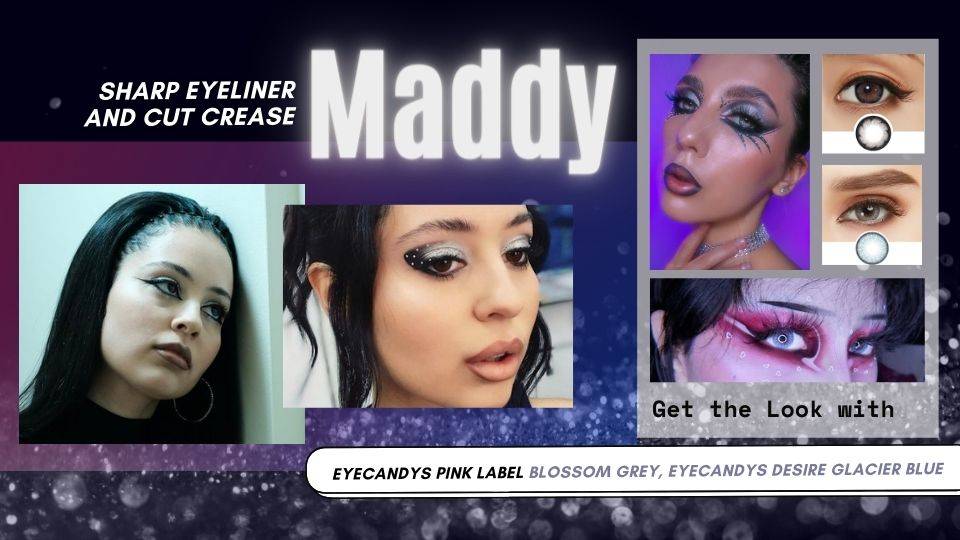 A fierce liner is definitely Maddy's trademark. Whether she's wearing natural eyeshadow or a bold cut crease, you'll always see her sporting anything from a feline flick to an extended wing for intensely defined eyes. We especially love these cool toned makeup looks above, which she fittingly paired with a 90s inspired brown lip.
If you've been meaning to try out that signature 'Maddy Euphoria Makeup Look', we highly recommend pairing it with icy hued lenses to put even more focus on that piercing eyeliner and cut crease. EyeCandys Pink Label Blossom Grey and Desire Glacier Blue and Shade Blue are sure to do just the trick.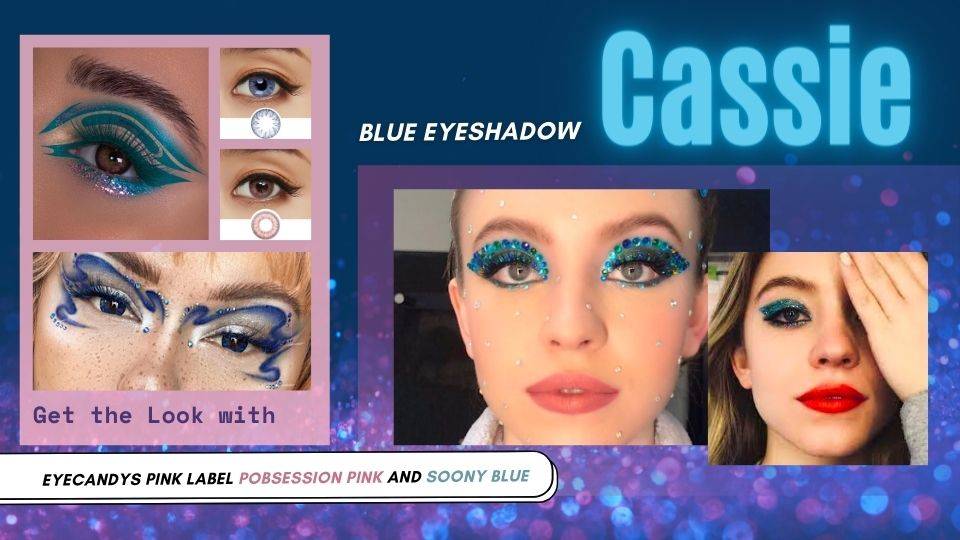 A quick search on Cassie euphoria makeup, and we can guarantee it will lead you to a stunning array of glittery blues and bejeweled turquoise looks. Though she also sports more sober colors like baby pinks and icy blues, these teal-colored makeup looks are definitely some of her most memorable, and also matched the different striations of her blue-green eyes beautifully.
In true Cassie euphoria makeup fashion, opt for lens colors within the same color family as one of your eyeshadow colors. Check out EyeCandys Pink Label Obsession Pink, Soony Blue, and Dewy Aqua.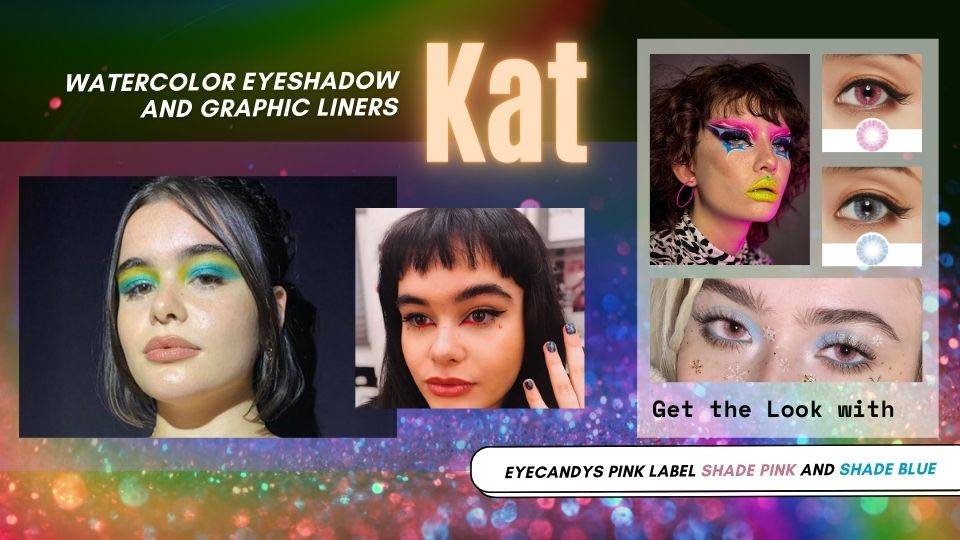 We love seeing Kat experiment with different colors and liner looks, especially as her confidence grows throughout seasons 1 and 2. From her watercolor eyes to a bold cat eye, every look is a work of art. This cyan and chartreuse lid combo has a special place in our hearts, but we also love this feline eyeliner look just as much. It's kinda similar to Maddy euphoria makeup, but with the addition of a fiery red liner towards the inner corners of the eyes.
Kat's multi-colored looks best suit an iridescent eye color, such as EyeCandys Pink Label Shade Blue and Shade Pink.

Not sure which colored contacts to buy? 💭

Take our quiz to discover your new holy grail and stand a chance to win your perfect pair of color contacts!