The Best Color Contacts for Brown Eyes
How to find lenses that appear bright & true, yet natural for dark irises

Do colored contacts work on dark brown eyes?
One of the greatest attractions of colored contacts is the fact that they give you the opportunity to finally have the eye color you've always dreamed of. With over 50% of the world having brown eyes, you can be assured that most colored contacts out there are designed for brown eyes. Remember, though, that not all shades of contact lenses go well with the natural color of your eyes. Just because a pair of contacts is colored violet, doesn't automatically mean it'll give you Liz Taylor eyes. If your natural eye color is brown or black, the following brief guide should point you on the right track towards choosing the right type and color of contacts.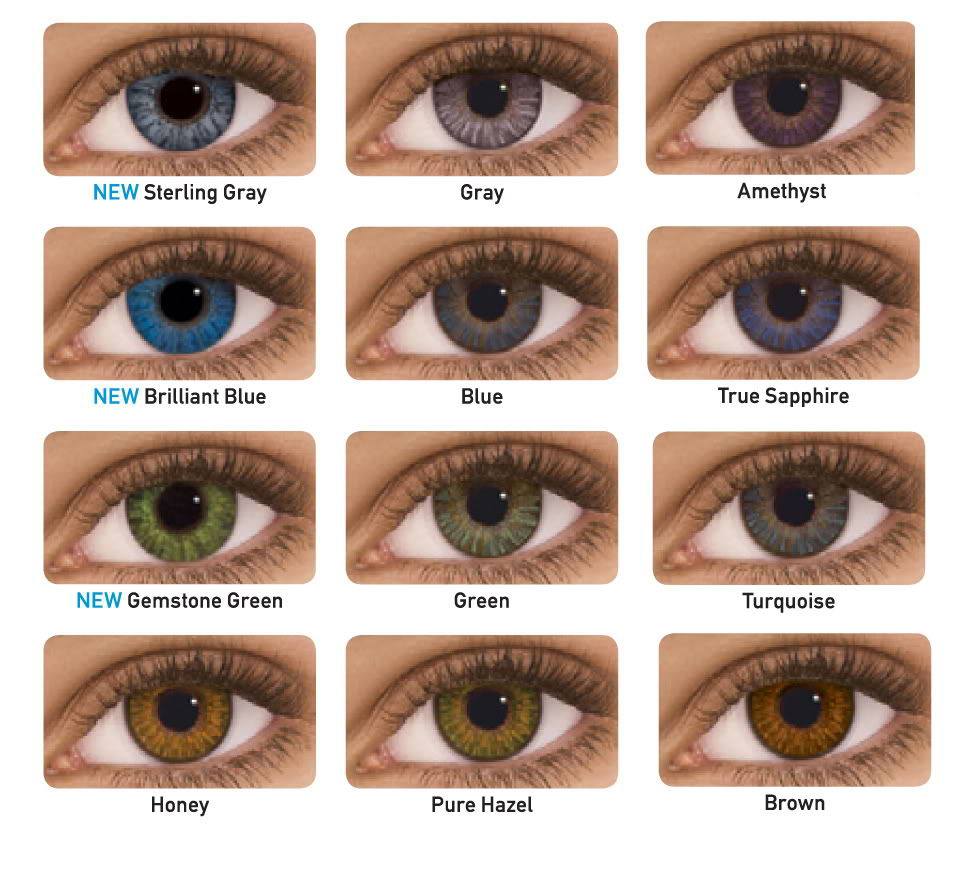 Your Ideal Colors
Grey Contacts
If you don't really want to go all-out in changing the color of your eyes, but simply want to jazz up your look a bit, this may be the best choice for you. Whatever shade of brown your eyes are, gray is sure to look good on them. Even better news is that it matches all skin tones and hair colors as well.
With the popularity of this color, there are an increasing number of designs available. Grey contacts come in various opacities (e.g. transparent, tint, opaque), tonalities (2, 3 and even 4 tones) and even wear modalities (dailies, biweeklies, monthlies, yearlies) to boot! The best grey contacts for brown eyes, in our opinion, are those which have mid to high opacity and have 3 or more tones, like GEO Tri Color Grey pictured here.
Blue Contacts
If you were born with brown eyes, but always wanted to have a pair of baby blues, then you're in luck. Blue is actually one of the top choices of colored contacts for brown eyes. The resulting look depends on how dark your natural iris is and how opaque the contacts are:
If your eyes are a dark shade of brown or almost black, and you choose light blue lenses, this will give you the appearance of having dark blue-brown eyes.
If your eyes are a lighter shade of brown and you wear bright blue contacts, you'll appear to have sea blue eyes.
Baby blue contacts on light brown eyes will give you Taylor Swift-looking eyes. Which, of course, go perfectly well with that "red lip classic thing that you like." 
Green Contacts
This is another top choice of color for people with brown eyes, especially if you want to achieve a mysterious, alluring look. The good thing about green contacts is that they look very natural when worn on brown eyes, since most green patterns have specks of yellow or beige to deliver a smooth transition, especially towards the centre (the pupil).
The Ideal Type of Colored Contacts
What if you want to have eye color other than blue, green, or gray? Well, then, you'd best go for opaque colored contacts . Unlike tinted contacts, this type of lens is typically is patterned with 3 or more tones, ensuring your underlying eye color doesn't show through all. Opaque lenses cover your irises almost entirely, with only the center (pupil hole) left uncovered so you can still see. With this type of lens, you can make your eyes as dazzling as you want them to be. Try fun shades like pink, violet or purple contacts.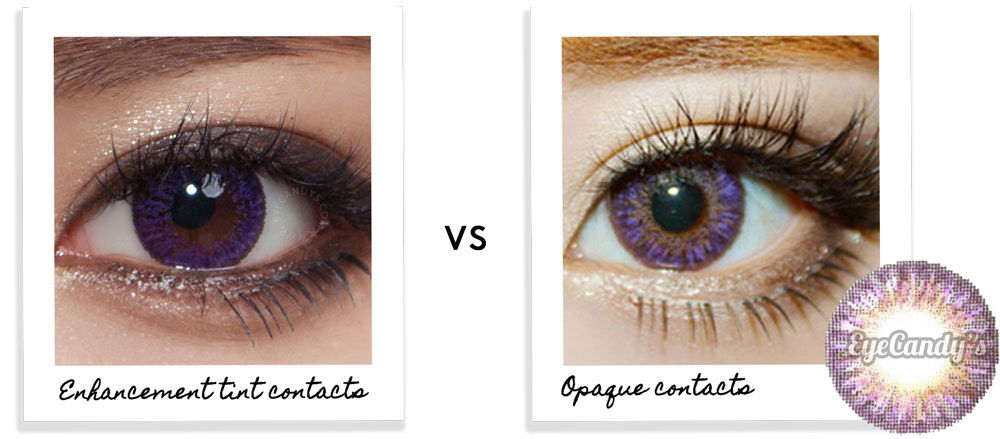 Showing the difference between enhancement tint lenses (like Royal Vision Pinky Color Violet) vs opaque contacts (like GEO Tri Color Violet)
Contacts to Avoid
There are lenses known as enhancement contact lenses. As the name suggests, they're meant solely to enhance your natural color. This type of lens typically doesn't come in brown. Although wearing enhancement contact lenses in another color won't necessarily hurt your eyes or make you look weird, they might not give the color payoff you're seeking, since they aren't really designed to cover your eye color. Enhancement contacts will just tint your eyes, which is why they're more suitable for lighter irises (e.g. blue, grey, green).
Brown doesn't have to equal boring!
Remember that brown eyes can be a beautiful thing - you can play with various shades like beige, hazel and honey contacts. These contact lenses will lighten up your eye color without looking too made-up. Perfect for those who like to remain low-key, but see a visible difference.
Whatever shade of colored contacts you choose, make sure they match your personality! This means you should take into consideration not only your skin tone and hair color, but also the makeup and clothing that you enjoy wearing. A unique outfit needs an equally unique pair of eyes to match! A bit of experimentation may be needed for you to find the perfect pair of colored lenses. What's most important is that you have fun while doing it!
Ready for Beautiful Eyes?
Let us give you a head start with our finest recommendations below. Adventures await you in the world of colored contacts!