Can Men Wear Colored Contacts?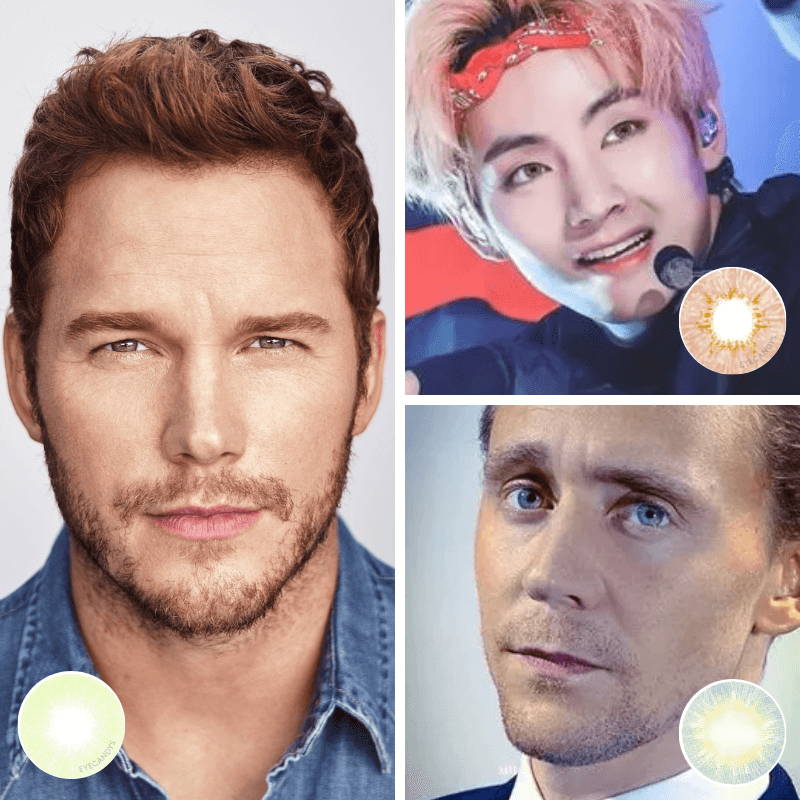 Well, here's the simple answer - Do men have eyes? Of course they do! So, can men wear colored contact lenses? Yes! Of course they can!
Well, there is a question with a bit more complicated answer. It really depends on who you ask. There are a few stereotypes you may have heard about man who wear colored contact lenses, either as a bit of an upgrade to go along with their vision correction or purely as an accessory. Here are some assumptions people may make of guys who wear contact lenses with color.
He's Gay

- For some reason, colored contact lenses are considered a female accessory. Some even equate them to other mainly-female fashion statements such as dangly earrings or sparkly nail polish. However, this is also an assumption common among trends of the metro-sexual male, characterized as taking pride in his appearance and making sacrifices and changes to improve it.

He's Insecure

- Wearing colored contacts as a way to improve one's look is considered an accessory or a beauty enhancement product among women. However, when men take an interest in using the same product, it has been associated with insecurity. By that token, is any woman wearing eyeliner or mascara equally insecure? Is wanting to look great for a date - or even a day at work or school really so bad?
He's addicted to Kpop - Korean pop is receiving increasing attention, and some superfans, in an effort to look like the latest Asian stars, subscribe to new colored contact trends.
Harsh! Well, I would say that if he's willing to battle all of those stereotypes and the negative hype to enjoy an eye color adjustment, gay Kpop addict or not, that shows a pretty healthy level of confidence. Which rules out "He's Insecure," does it not?

What Kind of Guys Wear Them?

Let's take a look at a few male celebs who sport colored contact lenses. Then, you can judge for yourself whether or not the trend is a go.
Stars: They're Just Like Us - But with Prettier Eyes!

Very few women would deny Chris Pratt the opportunity to guard their galaxy! Whether you prefer him in his demi-god, space-sailing, avenging role or enjoy watching him train dinosaurs in Jurassic World, you'll agree he's one funny, sexy, young man with GORGEOUS green eyes!
He's best-known as playing the evil brother of one of our favorite tough-guys in the Avengers series. But, he doesn't always look so dark and drab! This British actor sports gorgeous colored contact lenses that enhance his eye look - and therefore his overall look!
This South Korean singer, actor, fashion designer and television presenter loves changing up his eye color with the help of contact lenses!
We all know and adore Chris for his role as Thor in the Avenger series. The God of Thunder himself occasionally sports colored contact lenses. Does he look "insecure" to you? Heck, no! He's worthy - the question is, are you?
The Thai lead rapper, dancer, and vocalist loves his colored contact lenses. They are great for his unique look!
 The colored contact lens trend doesn't stop with the men of Marvel - DC Universe is in on it, too! Everyone's favorite fish-man wears contacts to achieve a variety of smoldering, sexy, and just plain GORGEOUS eye looks that drive fans, both male and female, gay and straight, wild!
How Can You Look Your Sexiest in Colored Contact Lenses?

You don't have to be a superhero, or an Asian pop star, to look great in colored contact lenses. And we are here to help you pull it off! We have a few general rules of thumb for you.
Choose a Color:

For the most part, we recommend that you go for realistic colors, unless you're shopping for a great cosplay look (we've got you covered there, too!) We have several natural tones to explore, from brilliant browns and gorgeous greys to graceful green! Or - if you dare - try a beautiful blue!
Consider Lens Diameter: Colored contact lenses come in a variety of graphic lens diameters (size of the printed portion of the lens). And each serves a purpose of it's own. Larger diameters create the illusion of larger irises, which are associated with wide-eyed innocence. For men, we recommend an average or smaller than average lens diameter. Look for a lens with a graphic diameter of 14.0mm or lower. These give you a more realistic look.
Bottom line, if you are looking to change your eye color, you can pull it off - we believe in you! You just have to have the confidence to brush aside the assumptions of the haters! Just stick to our simple hints and you'll enjoy a sexy new look in just minutes!

Not sure which colored contacts to buy? 💭

Take our quiz to discover your new holy grail and stand a chance to win your perfect pair of color contacts!