What are Colored Contacts?

If you haven't yet treated yourself to an eye transformation via colored contacts or circle lenses, you are really missing out! With this quick and simple accessory, you can instantly change your eye look to whatever your heart desires! Customize your look as quickly as you change the screensaver on your phone.
Colored contacts are available for every occasion - whether it's Halloween, a big meeting at work, or a night out on the town. Every day - and every moment - is an opportunity to shine when you've got quality colored contacts.
At EyeCandy's, you can quickly and easily find contacts as unique as you! You can choose from colored contact lenses with printed areas of 14.2mm (and below), 14.5mm, 14.8mm, and 15.00mm. Generally speaking, contacts with smaller printed areas appear more natural, while those with larger prints create a wide-eyed look associated with youth and innocence. And you can find the contacts that are just right for you!
Circle lenses are colored contacts patterned with a prominent border, often in black or dark grey (called a limbal ring). When we are born, our eyes naturally have a wider limbal ring that defines the iris (or colored part) of our eyes. This is generally associated with youth and innocence. Unfortunately, as we age, the appearance of this limbal ring thins. This is where circle lenses come in!
With circle contact lenses, you can recreate that fresh, youthful look, in mere seconds. The effectiveness of these lenses in giving the illusion of bigger eyes has proven successful by their prevalence in Korean, Chinese and Japanese pop culture. Several Asian pop stars are known for creating a new, fresh eye look with the help of circle lenses!
You don't have to be a pop star, a model, an actor, or a makeup artist to experiment with your look! EyeCandy's makes it easier than ever to customize your most fabulous feature to get the look you love!
You may wonder, "How do I know what size circle lens to get?" First, it is imperative that you wear the diameter stated on your contact lens prescription given to you by your eye care professional. Within a lens diameter, the graphic diameter can vary. The graphic diameter is the portion of the lens that is printed and what affects how large your iris will appear. Generally, the larger the graphic diameter, the more area the lens pattern will cover - hence bigger-looking eyes.
You can make enhancements while still letting your natural colors show through. Circle lenses can add definition to the outside of your iris with a limbal ring. You can make your eyes appear larger for a doll-like effect or create a more clearly defined iris and add a remarkable shine.
There are a wide variety of options when it comes to circle lens contacts. The limbal ring itself can be black, brown, dark brown or grey. The line style of the limbal ring can be solid or finely-dashed for increased blendability with your natural eyes. More complex 2 or 3-tone circle lens contacts include a donut-shaped pattern of brown, grey, blue, green, violet or even pink, radiating out in strength from the pupil in the center.
Choose a pair to match your natural eye color and enhance your perfect peepers, or choose something in a fresh new color and change up your look completely! A thick, solid ring makes a statement, while a more subtle ring may blend better with your natural eye color, while still adding definition.
On the other side of the pendulum, EyeCandy's offers colored contact lenses with no limbal ring. These offer a totally seamless transition with your own eye color. With such realistic results, feel free to dress up or down these lenses - you're guaranteed to look selfie-perfect, wherever and whenever!
Are Colored Contacts Safe?

Colored contacts are just as safe as clear contact lenses. When stored, cleaned, and worn as directed by the label and your eye care professional, colored contacts are very safe. You may have heard of friends having negative experiences with colored contacts in the past. There can be a variety of reasons for this.
First and foremost, it could be due to choosing lower quality lenses. You can rest assured,any colored contacts you order on our site are guaranteed safe as we only carry the highest-quality contact lenses. any colored contacts you order on our site are guaranteed safe as we only carry the highest-quality contact lenses.
It's important to only use colored contacts brands certified by national and international health authorities. EyeCandy's keeps your health our #1 priority–we only stock brands approved by the FDA (American Drug and Food Administration), Health Canada, KDFA (Korean Drug and Food Administration) and/or CE1023.

Exploring our site, you'll find recognizable brands like NEO Vision, Royal Vision, GEO, Lilmoon, EOS, and Bausch and Lomb. EyeCandy's offers fair prices that won't break the bank, but in only the best brands, certified for health and safety standards.
Discomfort can also be a result of poor contact hygiene. Colored contacts (like any contact lenses), must be cleaned properly daily and stored in a quality contact solution in a clean container designed specifically for contact lenses.
It is also important to keep in mind your contact wear cycle. EyeCandy's stocks contact lenses with wear cycles from anywhere to daily disposable to yearly, with many options in between. We are all unique and our preferences and needs are equally unique. There is no "one-size-fits-all" answer to colored contact routines. Some prefer contacts with a longer wear cycle and choose those designed with durability for daily, long term wear and frequent cleaning. Others prefer to start each day with a fresh pair of lenses. This can be particularly helpful for those who suffer from chronic allergies as there is less opportunity for contacts to be in contact with allergens that could cause irritation.
Aren't Colored Contacts Uncomfortable?

We can't stress enough the importance of proper care and cleaning of colored contact lenses - not only for safety, but for comfort as well.
Additionally, a sure-fire way to ensure eye comfort with contacts is choosing lenses of the highest quality. Contacts crafted from the best materials by experienced manufacturers with high standards will result in optimal comfort - which in our opinion means lenses you can barely feel. And that's exactly what EyeCandy's provides! We take the care of your perfect peepers very seriously - it's our highest priority.
When browsing colored contacts and circle lenses, a general rule of thumb is that the higher the water content, the more comfortable the lenses will feel. Often, discomfort is caused by dryness. It only follows that the higher the moisture content of your lens material, the more comfortable the wear!
What if I Already Wear Glasses or Contact Lenses?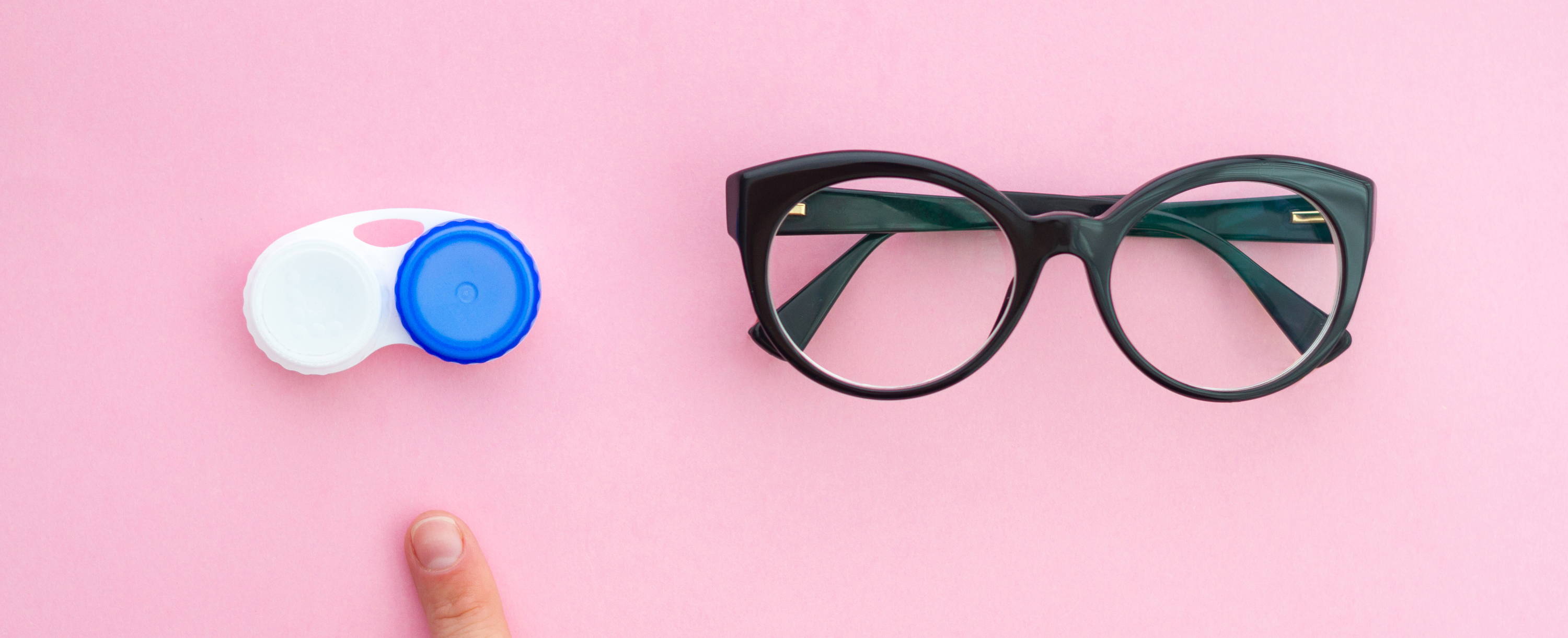 Well, we've got good news for you! If you already wear glasses or contacts for vision correction, you can easily substitute them for colored contact lenses or circle lenses. So - 20/20 vision AND a fashion upgrade. Win-Win, right? EyeCandy's stocks colored contacts with prescription strengths 0.00 (non-prescription or plano) to -10.00. So, whether you simply seek a cosmetic upgrade or actually need a little help to get through the day, there are plenty of contact lenses to choose from!
Got astigmatism? We've got your back! We partner with manufacturers who are skilled and experienced in building colored contacts to order so you'll have contacts that fit your unique eye shape perfectly. These lenses do require a bit more time to get to you - because they are built to order with your prescription measurements in mind.
A big concern many people have when considering colored contacts or circle lenses is that their eyes will look "fake." That may have been the case in the past, but there are now several options available on the market that are specifically designed to create a look just as natural as your very own eyes.
One way to create a blended, natural look is wearing lenses with various tones of color. EyeCandy's carries lenses with 1, 2, 3 tones of color - and more! So, you can sport a complex, intriguing eye look in the blink of an eye! Lenses are also available with a variety of patterns and prints for an optimal blend. The various tones often include lighter pigments surrounding the iris, creating greater definition.
Colored eye contacts are formed by colored pixels imitating the pigments of the actual human iris all encased in natural-sized lenses. While cool colors such as green, blue, and purple are still well-loved by avid contacts wearers, brown and hazel and are considered the most natural colored contacts.
Common eye colors such as brown, hazel, and black are versatile as they could pair well with all kinds of skin tones and make-up. That's the thing about basics: they look good with anything, and can enhance the already beautiful.
What if I Have Dark Eyes?

One of the greatest attractions of colored contacts is the fact that they give you the opportunity to finally have the eye color you've always dreamed of. With over 50% of the world having brown eyes, it goes to follow that most colored contacts out there are designed for brown eyes.
Remember, though, that not all shades of contact lenses go well with the natural color of your eyes. If your natural eye color is brown or black, the following brief guide should point you on the right track towards choosing the best colored contacts for dark eyes. Choosing colored contacts for dark eyes may seem tricky! This is because you always have to consider the fact that the color of the lens (which always has some degree of transparency) will be muddled by your dark iris.
Opaque or semi-opaque contacts are the best colored contacts for dark eyes, especially for those who want to totally switch to a different eye color. This means the lens has more colored pixels per unit surface area. Compared with enhancement contacts, opaque or semi-opaque colored contacts have higher pigmentation, changing dark eyes even to the even lightest blues or greens. But don't worry! EyeCandy's has you covered with the best colored contacts for dark eyes.
Even with dark eyes, you certainly have options! Here's our advice for choosing a contact color when your natural eyes are dark.
If you don't really want to go all-out in changing the color of your eyes, but simply want to jazz up your look a bit, grey may be the best choice for you. Whatever shade of brown your eyes are, gray is sure to look good on them. Even better news is that grey eyes match all skin tones and hair colors well.
If you were born with brown eyes, but always wanted to have a pair of baby blues, then you're in luck. Blue is actually one of the top choices of colored contacts for brown eyes.
Green is another top choice of color for people with brown eyes, especially if you want to achieve a mysterious, alluring look. The best good thing about green contacts is that they look very natural when worn on brown eyes, since most green patterns have specks of yellow or beige to deliver a smooth transition, especially toward the center (or pupil). The many tones in green lenses make it one of the most natural colored contacts for dark eyes.
Remember that brown eyes can be a beautiful thing. The majority of the world has dark eyes! Why? Because they're gorgeous! You can play with various shades like beige, hazel and honey contacts. These natural colored contacts for dark eyes will lighten up your eye color without looking too made-up. This is perfect for those who like to remain low-key, but want to see a visible difference.
What are Colored Contacts Made Of?

One of the most popular contact lens materials is silicone hydrogel. And the reasons are endless! Silicone hydrogel color lenses, or soft silicon contact lenses, deliver higher oxygen permeability, meaning less irritation and dryness compared to regular color contacts.
We all love multitasking products, and these silicone hydrogel color lenses totally fit the bill - what else corrects your vision, can be worn comfortably for the whole day AND gives you the freedom to experiment with new eye colors all at the same time? Silicone hydrogel lenses transmit oxygen up to 5 times more oxygen than regular lenses. No more tired, itchy, red eyes at the end of the day!
In fact, silicone hydrogel and some of its polymer variants are even used as a bandage for treating eye conditions, releasing medication to the patient's eye over an extended period of wear. How cool is that!? Eye care practitioners have deemed silicone hydrogel contact lenses as the new standard of ocular care.

How Much Do Colored Contacts Cost?

The cost of colored contacts and circle lenses varies based on many factors - often most by the provider. EyeCandy's is dedicated to providing valued customers with quality lenses that won't break the bank. Contacts also vary in cost by manufacturer. EyeCandy's stocks the best brands in colored contact lenses so you've got only the best to choose from.
Wear cycle is another factor determining cost. Those lenses with longer wear cycles require materials with higher durability to stand up to cleaning and daily wear. These often cost a bit more than lenses with a shorter wear cycle. However, they can be considered an investment as they don't need to be replaced as often.
Where Can I Get Colored Contacts?

While you can purchase colored contacts and circle lenses from a variety of providers, we urge you to find a source committed to stocking high-quality, safe lenses at a price point you can afford. That's where EyeCandy's comes in! We take the guesswork out of finding your perfect eye look. You can browse our selection by color, printed lens diameter, wear cycle, number of tones, brand, and - of course, prescription strength.
Take a look at our wide selection and find your perfect match today!